This 1926 film introduces and discusses the technical aspects of making talking pictures. It is the first film using the Vitaphone sound film system developed at Bell Laboratories.
This film was originally presented to the New York Society of Electrical Engineers in 1926. Edward B. Craft, the Executive Vice President of Bell Labs, gives the address and demonstration. Following his presentation, an example of the sound film: a trio of songs performed by Witt and Berg, the vaudeville duo consisting of ukulele player Bob Witt and guitarist Cy Berg, who played an unusual bell-shaped lute- or cittern-like guitar. The songs they perform include:
My Honolulu Hula Girl (written by Sonny Cunha)
Hello, Aloha (How Are You?) (written by Abel Baer and L. Wolfe Gilbert)
St. Louis Blues (written by W.C. Handy)
I Don't Mind Being All Alone (When I'm All Alone With You) (written by Clarence Gaskill, Jimmy McHugh and Irving Mills)
This sound film was the result of four years of research, and during the process AT&T had created Bell Laboratories (in 1925). Not just recording methods were researched at the time, but also playback and amplification methods as well. The results of the research were that Bell or Western Electric entered into an agreement with Warner Brothers in 1925, and the new Vitaphone sound-film and moving-coil speaker system was first installed in NYC's Warner's Theater in 1926. The first test for the full system was a film named Don Juan, which had both sound effects and music, but no talking.
There are no doubt some Bell Labs employees in this picture, taken at the Don Juan premiere in 1926: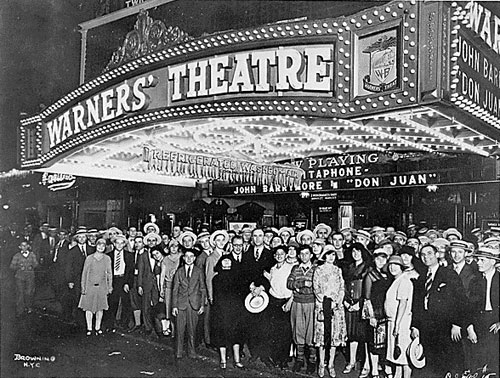 Footage courtesy of AT&T Archives and History Center, Warren, NJ